Aerial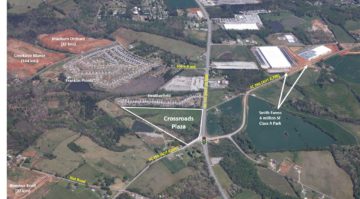 Crossroads Plaza - Greer, SC
Pre-leasing!
Located at the northwest corner of the signalized intersection of SC Hwy 101 (5 lanes, ADT 20,500) and SC Hwy 296 (ADT 8,700).
Crossroads Plaza is a planned 75,000 SF grocery-anchored development with all utilities to the site and zoned C-3.
There are four outparcels:  Spinx, First Citizens Bank, and two available at 1.08 acres each.
Proximity to GSP International Airport, BMW (11,000 employees) and associated suppliers at I-85 and the nearby SC Inland Port, which is undergoing expansion due to record cargo.
Greer's 2017 retail sales total topped $1.3 billion, increasing 12% compared to fiscal year 2016 and a 47% growth in sales over the last 5 years.
Location:
The site is situated at the northwest corner of the signalized intersection of SC Hwy 101 and SC Hwy 296 (Reidville Road).
Area:
The site is one of 18 designated commercial nodes in Spartanburg County and is the southernmost portion of the City of Greer.
A captive trade area with the closest grocery stores being Publix and Ingles (5.5 miles to the east) and Bi-Lo, Lowes Foods, and Publix at Five Forks (6.1 miles to the west)
7 new subdivisions underway in the immediate area for a total of 862 new lots.
This area is exploding with new job creation provided by Michelin's 3.3 million SF distribution center and Valeant Pharmaceuticals 432,000 SF distribution center south of the site and Smith Farms, a 475-acre warehousing, distribution, and industrial park.
Leasing:
David Winburn 864-272-0088 [email protected]