Birkdale Commons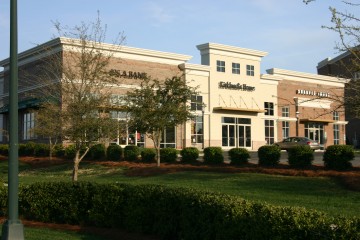 Birkdale Commons - Charlotte, NC
Birkdale Commons is a 14,225 square foot building, home to Jos. A. Bank and Kirkland's, located at the front entrance to Birkdale Village.   Birkdale Village is a 52-acre mixed-use community, master-planned as a "town center" to include 325,000 sq. ft. of high-end retail, restaurants, and entertainment.   The development also includes 75,000 sq. ft. of office space and 300 apartments and town homes.  Birkdale Commons was sold to Inland.
Location:
The nationally recognized architectural design is patterned after a New England seacoast town (Nantucket) with a main, tree-lined thoroughfare with outdoor cafes culminating at a large traffic circle with a water feature. The retail summary is a "Who's Who" of upscale shopping with Barnes & Noble, Williams Sonoma, Talbots, Ann Taylor, Dick's Sporting Goods, Victoria's Secret, Bath & Body Works, Banana Republic, and Eastern Federal, just to name a few.
Commentary:
Birkdale is located in Huntersville, approximately 14 miles north of Charlotte, North Carolina, at Exit 25 on Interstate 77. Huntersville is the second fastest-growing city in North Carolina, with a population that has doubled in the last 10 years alone. There are five upscale golf course communities located within a five mile radius of Birkdale. The Birkdale name is well-recognized and is synonymous with quality. Visibility, access, and location are superior. Birkdale is considered to be Charlotte's most advanced mixed-use development. It places office and residence above and behind the shopping center area. The "town square" has a central fountain plaza with restaurants and shops on all four surrounding corners. The retailers are more lifestyle anchors catering to a friendly pedestrian environment. There are 1,200 single family residences surrounding the property. Birkdale Green has starting prices around $200,000 while the Birkdale golf community and accompanying homes begin at $350,000.